Ariana Grande Married: Star Finally Finds Love in Random Civilian
Credit: Ariana Grande/ Instagram
Triple A-List pop-star Ariana Grande started the week off with a bang when she pulled the ultimate Hollywood move and got married in ~ secret~. Grande married her now-husband Dalton Gomez in an intimate ceremony at her house in Montecito attended by fewer than 20 people, including family on both sides. A source told E! that the ceremony was " simplistic and tasteful" with a white floral theme.
Grande first began dating 25-year-old Gomez in January of 2020 but, you might not have known that, seeing as the couple keeps it extremely lowkey. It must be acknowledged that Dalton Gomez is not a Famous Person™. He has a job as a luxury home realtor in Los Angeles, a private Instagram account and is a TMZ certified "Rando". It was only in May of 2020 that they publicly confirmed their relationship when Ariana and Justin Bieber (both of whom are managed by Scooter Braun) partnered up for the "Stuck With U" music video. In it, the newlyweds are dancing and cuddling up to each other.
Cue the *AWEEEs*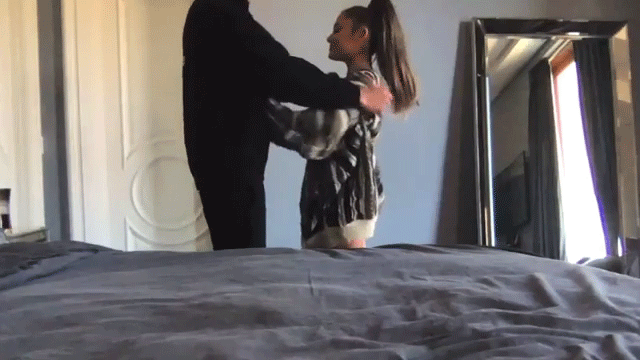 Credit: Ariana Grande/Youtube
Since announcing their engagement in December 2020, the pair have been showing off their love on social media, much to the delight of the infamous Ariana Twitter Stans, who have already started making wedding edits to fill the void left by the unreleased wedding pictures:
Ariana seems to have found the love and stability the world has watched her search
for throughout her career. Her relationship with Dalton has already far outlasted her ill-fated, four-month engagement to SNL's Pete Davidson in 2018, which was fraught with media drama and valuable lessons about the permanence of Tattoos. It appears that quarantine was a blessing in disguise for these two, who were able to shape a relationship free from the scrutiny of the public eye. We wish the world's most lowkey celebrity couple a long, happy marriage and kindly request that Ariana release some wedding pictures soon because, seriously guys, it's getting weird.